Mod Hammer of God 400 - Vaperz Cloud

Vaperz Cloud ofrece su Hammer of God 400, un Mod de cuatro baterías de 400 W. (No incluidas)

Los mods Hammer Of God de Vaperz Cloud se han vuelto muy populares gracias a su diseño innovador y su impresionante poder.

El Hammer Of God 400, equipado con el chipset DNA250C, ofrece una potencia máxima de 400W, lo que de hecho es uno de los mods más potentes del mercado.

Este mod funciona con cuatro baterías 18650 (no incluidas) conectadas en serie, lo que garantiza una mayor autonomía.

Su imponente tamaño se adapta a la mayoría de los atomizadores y su chipset DNA250C ofrece un control preciso sobre numerosos parámetros, con una interfaz gráfica personalizable.

Además, el Mod Hammer Of God 400 cuenta con una función USB On-The-Go, lo que permite utilizarlo como cargador auxiliar.

Provisto de un cable micro-USB e instrucciones de uso, este mod es realmente extraordinario.
Características:
Tamaño: 85,5 x 41 x 49 mm
Materiales: aleación de aluminio CNC
Conjunto de chips: VC HotSwap 400
Batería: 4 pilas 18650 (No incluidas)
Rango de voltaje de salida: 0,8 v - 0,16 v
Rango de potencia: 5W - 400W
Modos de funcionamiento: Potencia variable, modo bypass, control de temperatura
Pantalla: Pantalla OLED a color de 0,96". Cambio de color 10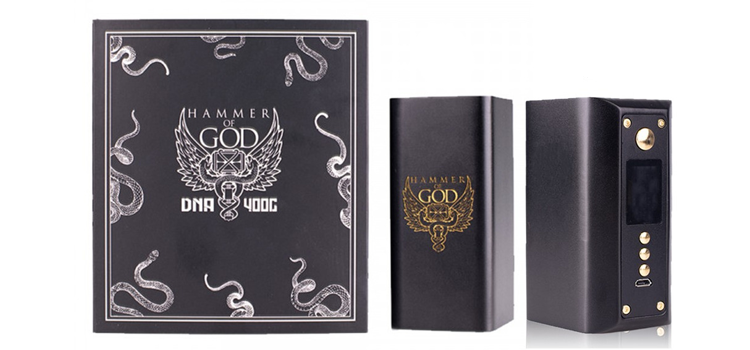 Viene con:
1 x Mod Hammer of God 400
1 x Bolsa de accesorios
1 x Herramientas
1 x Manual de usuario